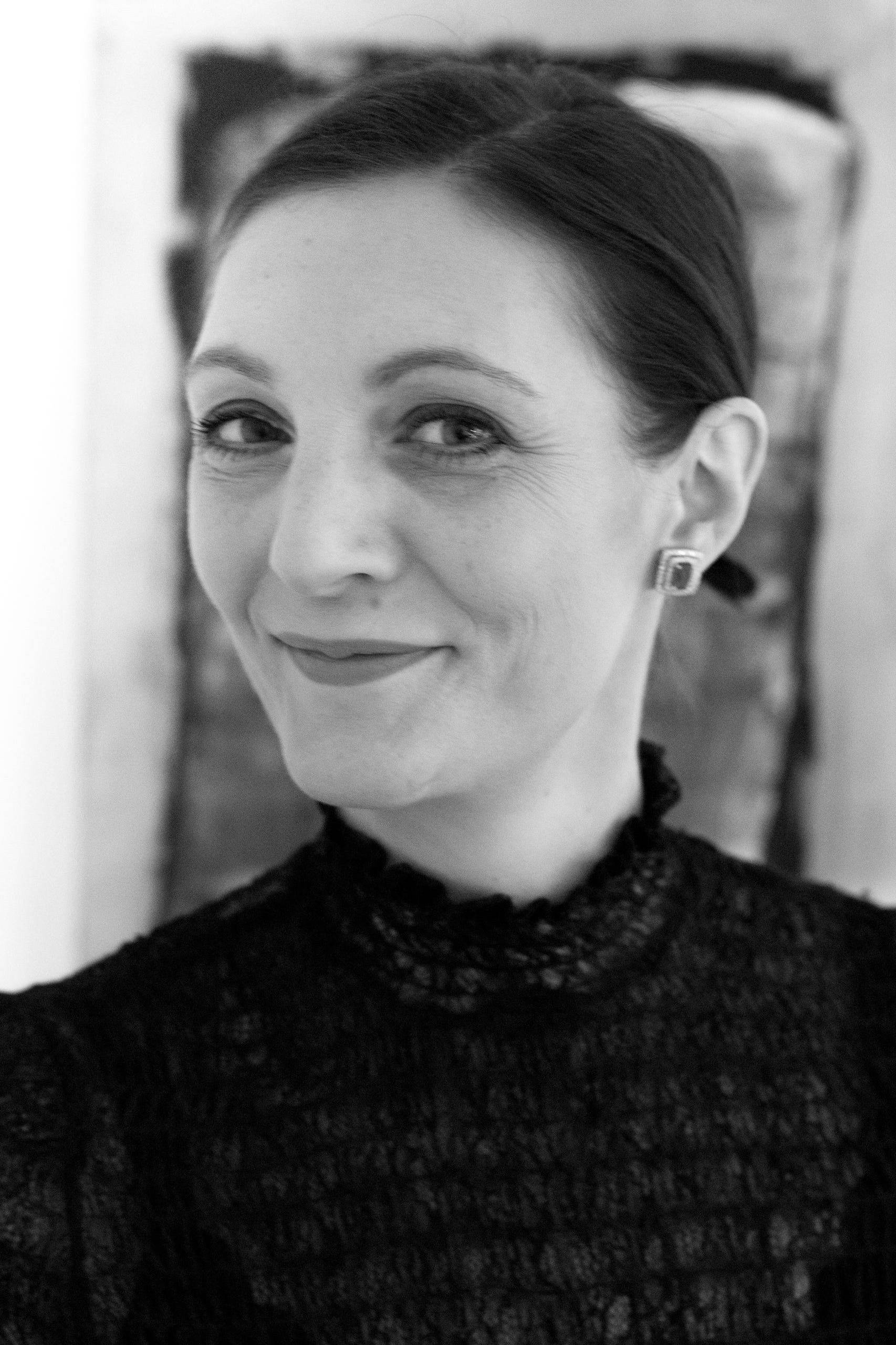 Über mich
Aufgewachsen in einem Künstlerhaushalt war ich schon immer kreativ tätig.
.
Durch meinen Vater, studierter Künstler, sind mir die Techniken und der Umgang mit Materialen vertraut, ohne das ich selbst Kunst studiert habe.
Erst spät in meinem Leben, nach einer überstandenen Krebserkrankung, habe ich selbst mit dem Malen begonnen. Über Nacht hatte ich plötzlich das Gefühl, es muss etwas raus.
Seitdem lässt es mich nicht mehr los.

Schnell kam an, was ich machte und nimmt nun immer mehr Raum ein.

Als Autodidaktin transportiere ich Emotionen auf die Leinwand und freue mich, wenn andere Menschen dies erkennen und ihren eigenen Raum in meinen Bildern finden.

Mich interessiert das Zusammenspiel von Form und Farbe. Dabei mit wenig Mitteln viel zu transportieren ist meine Herausforderung. Klare, auf das Wesentliche reduzierte Bilder zu schaffen treibt mich an.
Meine Inspirationen finde ich häufig in Fotografien. Das Schaffen anderer Maler zu betrachten, finde ich für meine eigene Kreativität eher hinderlich. Man neigt dann dazu zu kopieren, anstatt seinem eigenen Antrieb zu folgen.



Vita:

Seit November 2018 andauernd, Solo Ausstellung Bremen; Akademie Überlingen

Februar 2019: Arte Genova; Art Fair Italien

September 2019: Gruppenaustellung Diana Achtzig Galerie Berlin

Oktober 2019: ArtParmaFair Italien

Seit März 2020 Kooperation mit Außmeyer & Gerling Kunsthandel in Bremen
März bis Oktober 2020 Solo Ausstellung bei Belladonna - Frauen in Kultur, Bildung, Wirtschaft und Arbeit
19.September - 31. Oktober 2020 Gruppenausstellung Galerie Z Contemporary
/Azaro Art Spaces Hamburg

Seit Dezember 2020 Lizenzvertrag mit www.kollektion-wiedemann.de, Kunstdrucke
2021:
Seit Januar 2021 Mitglied bei [KUN:ST] International, https://kun-st-international.de/artist/sagebiel-kerstin/

Teilnahme am KUN:ST] Preis 2021 zu dem Thema: 'Mensch, wo bist Du?'
Ausstellungsdauer der Kunstpreisausstellung: 24.06.2021
bis 01.08.2021, Ort: [KUN:ST] Quartier, Leonberg
My family was kind of creative hub for me. My father as a trained artist took me with him to atelier and happenings as a kid. Growing up in such environment, I've always been surrounded by creative people and thoughts from different disciplines.

I am familiar with a lot of techniques and handling of materials. I was always creative on my personal journey to express myself as a free-lance artist. Late in my life, after surviving cancer, i started painting. I felt that something wants to see the light of day. It hasn't let me go since.

Guiding myself through medias and materials i am very confident with my work today. Maybe there will be something completely different tomorrow.

My driver and inspiration are to create clear images, reduced to its essential proposition. Following colors and shapes is the current way to find myself

As a free-lance artist i transport feelings and emotions on the surface of the media. My personal success is when i touch people's senses with my art and they can find their own space in my world.

Vita:

Since November 2018 ongoing Solo Exhibition at Akademie Überlingen

February 2019: Arte Genova; Art Fair Italy

September 2019: Groupexhibtion Diana Achtzig Galerie Berlin; Germany

Oktober 2019: ArtParmaFair Italy

Since November 2019 Cooperation with the Gallery Z-Contemporary based in Hamburg; Germany. Published in the gallery book 2020

Since March 2020 Kooperation with Außmeyer & Gerling Artdealer in Bremen; Germany

March-Oktober 2020 First Solo Exhibition at Belladonna - Women in culture, education, business and work

19.September - 31. Oktober 2020 Groupexhibition Gallery Z-Contemporary /Azaro Art Spaces Hamburg; Germany

Since December 2020 Partnership/License Agreement with www.kollektion-wiedemann.de, Artprints

2021:

Since January 2021 Member of [KUN:ST] International!
https://kun-st-international.de/artist/sagebiel-kerstin/

Part of the art price exhibition: Mensch, wo bist du?
24.06.2021 until 01.08.2021
Vernissage and award of the audience award: June 27th, 2021 | 11.15 a.m.
Location: [KUN: ST] Quartier, Leonberg